Fruit Mania: Connect Fruits Puzzle Game UI Kit
This is a complete set of Vector Graphical User Interface (GUI) for creating 2d "MATCH-3 PUZZLE GAMES". Its 100% vector, thus its easy to customise and fully resizeable. Specially made for mobile apps/games but you can use it anywhere as its a vector.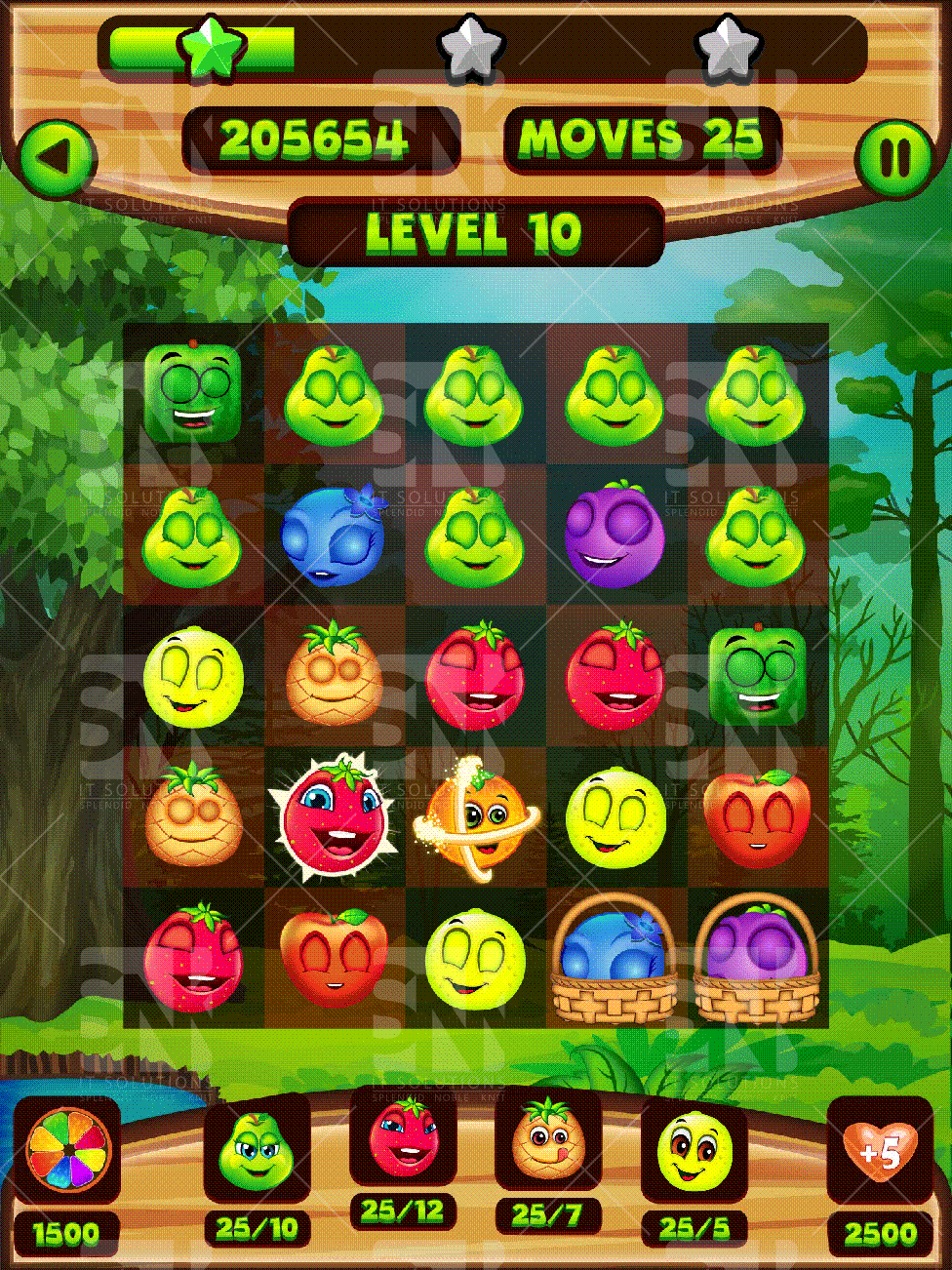 This Fruit Mania Mobile Game UI Kit includes:

9 Fruits with following Animations:
Fruits in Normal Condition Animation
Fruit Animation when Same Fruits Connect by line
Fruit Blast Animation
Fruit Flare Animation when 7 fruits are connected by line
Fruit Flare Blast Animation
Fruit Vertical & Horizontal Ring Animation when 12 fruits are connected by line
Fruit Vertical & Horizontal Ring Blast Animation
Victim Fruit Animation in Ring/Flare Blast
Obstacles Like Basket, Glass, Wood & Metal with their breakage/rescue animation

Game Tiles: For creation of different Levels of Game

Elements for Booster, Move, Life, Coins, Star included

30 iconic customizable buttons with three views: NORMAL, TAP, DISABLED

Pre-made Windows and Notifications:
Start Screen
Level Task Screen
Game Board Screen
Paused Screen
Victory Screen
Game over Screen
Notification Screen
Shop Screen
Background: Game Background & Splash Screen Background

Text is editable; Font is not included. Font Name: "Cloudy With a Chance of Love"
You may download fonts from: http://www.dafont.com/cloudy-with-a-chance-of-love.font
Available file formats: .AI, .EPS, .PDF, .SVG & TRANSPARENT PNG
See screenshots for more examples.

Please rate us if you like it!
Thank you!
Note: Level Map for this game is sold separately.